On Thursday 27 April, transport planners, professionals consultants and representatives of municipalities from the Tallinn city region came together with researchers from the CARIN-PT team to discuss challenges and opportunities for integrated public transport in city regions.
The full-day event at Kultuurikatel offered a varied programme with inspiring inputs, lessons from international and regional case studies and plenty of space for discussion and exchange among the participants.
Opening remarks by debuty mayor Vladimir Svet.
Illustration by Aleksandra Ianchenko
In their welcoming remarks, Vladimir Svet, Deputy Mayor of Tallinn, and Tauri Tuvikene, Project Coordinator of the CARIN-PT project, emphasised the importance of cooperation and coordination between stakeholders to promote integrated and sustainable solutions for the future of mobility in Tallinn.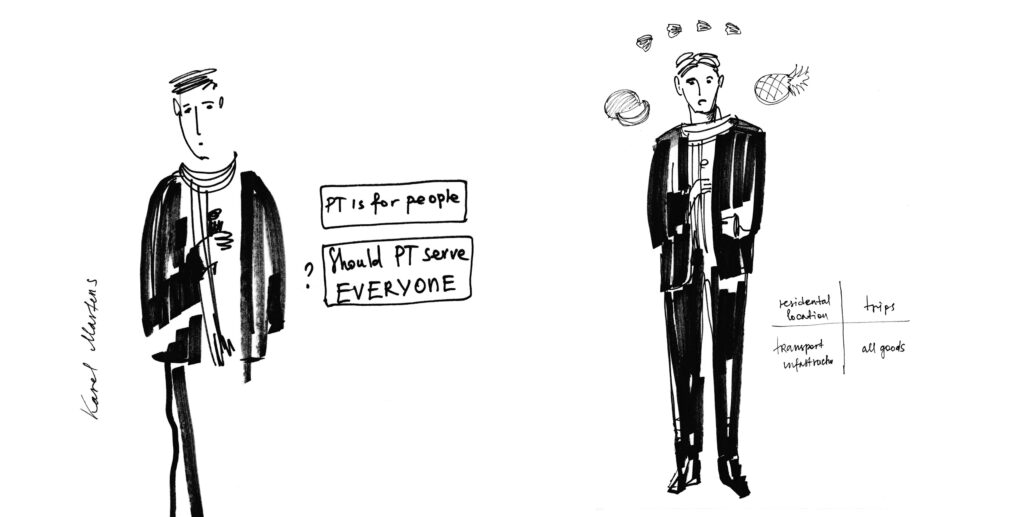 Prof. Karel Martens sharing his ideas on transport justice
perspective of fare-free public transport.
Illustration by Aleksandra Ianchenko
The discussion was stimulated by a keynote speech by Prof. Karel Martens on the idea of transport justice and the role of fare-free public transport, as well as by the contributions of Liivar Luts on the creation of the Tallinn Sustainable Urban Mobility Plan (SUMP) and Kristi Grišakov on the role of public transport stops in a changing mobility environment (PeatusKOHT).
Kristi Grišakov sharing findings of the PeatusKOHT study.
Liivar Luts explaining the process of creating the Tallinn Urban Mobility Plan.
Illustration by Aleksandra Ianchenko
An interactive transport game invited participants to experience the mobility challenges in the city of Tallinn for themselves. In the afternoon, international team members of CARIN-PT presented the main working topics of the project and discussed with the participants local and international challenges related to micromobility, on-demand public transport, transport-oriented development and fares.
Further insights on the workshops will be published in due course.
If you are interested in participating in more of our events or staying informed about our activities, come back to our site or sign up for our newsletter.