On 30 September 2022, the state awards for the best public transport projects in Estonia were presented. We took advantage of the gathering of a large group of stakeholders to hold a workshop on future visions for public transport. In an engaging and fruitful meeting with ministries, city officials, transport providers and private companies, we debated visions and barriers for more inclusive, integrated and resilient public transport systems in Estonia and asked how the public can be involved in this process.
What could public transport look like in Estonia in 10 years?
We started with the question of what a desirable public transport system might look like in 10 years, a timeframe that we thought was realistic and relevant to the participants' work plan, but far enough away to allow for some dreaming. While none of the discussion tables imagined very utopian public transport systems of the future, all offered some important points to ponder. Most responses raised in the room were pragmatic and centred around issues of coordination related to tickets, responsible government bodies and multiple-transport systems. With respect to one of the central issues in the country's public transport planning – the fact that it is free (currently offered in Tallinn and on some national routes) – panellists were in favour of low-cost public transportation, but questioned whether transport services should be completely free.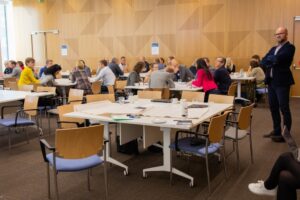 What obstructs progress towards such desired public transport?
In a second thematic block, we moved on to explore the obstacles to this vision. We encouraged the participants to ask "What would withhold progress towards this desired public transport?". Here, attention focused on the fragmented governance and the various obstacles in decision-making between institutions, administrative levels and local authorities. In addition, participants stressed the need for decision-makers to be more familiar with the public transport system and daily mobility patterns beyond car dependency. Criticism was levelled at the fact that decision-makers themselves have little experience with car-free lifestyles and forms of mobility, which directly translates into constrained decisions for sustainable and public mobility. 
One representative succinctly summarised the concerns of public transport planning by highlighting three elements: Accessibility, trust and demand-responsiveness. Accessibility refers not only to access to vehicles but also to the quality of access infrastructures such as roads. Trust refers to citizens' knowledge about public transport and its reliability. It is important to know that public transport exists and is not just disappearing for – perhaps short-sighted – political reasons. Therefore, as the representative explained, public transport is not a separate entity, but rather a whole regional policy. Finally, demand-responsiveness is about providers and authorities knowing the mobility needs of city dwellers and designing public transport to take people where they want to go. In this context, the lack of mobility data beyond counting passengers was also addressed.
How to involve citizens in public transport planning?
Finally, we wanted to know what practices and visions exist to involve city residents as public transport users or potential users in the process. The workshop participants were initially more interested in the broadest possible participation of different citizen groups. However, some discussion tables focused on the selection of target groups, especially those with a potential for changing their daily transport choices. One such key group would be younger adults, as this group seems open to living a car-free and sustainable lifestyle. A crucial moment for these groups to reconsider transport choices is when they experience decisive changes in their life stage, e.g. starting a family or living together with kids. At these moments, many young people seem to be rethinking their mobility practices, offering a point of reference for transport planners and authorities to support mobility patterns beyond private cars.
Overall, this workshop has outlined insightful visions of more inclusive, integrated and just public transport in Estonia. As the discussions among the participants showed, one of the main obstacles to such developments is the fragmented administration and the lack of exchange between authorities, relevant transport planners and operators. We hope that this first workshop was the first step to bring together different stakeholders and ideas. 
Link: https://www.transpordiamet.ee/yhistranspordi-valdkonna-tunnustused
Contributed by the Tallinn team: Õnne Kask, Louise Sträuli, Tauri Tuvikene