On-demand mobility is one of the central themes of the CARIN-PT project with its interest in integrated and just public transport (PT). To initiate cross-Europe discussion on the topic and inspire Estonian practitioners, we brought together researchers and practitioners from different corners of Europe for an online workshop on on-demand transport in January 2023.  The workshop drew together experiences from several systems, including Flemish Belbus, the Dutch Groningen-Drenthe flexible transport system, and the Castilla y Leon on-demand bus system in Spain. It also featured insights from a pilot project in Estonia (Saaremaa) as well as a similar project which is currently planned for the capital city region of Tallinn. Together, these systems offered a range of qualities to reflect on. For instance, Belbus, in operation since 1991, is locally embedded with a strong history, while the planned system in Tallinn is yet to be realised.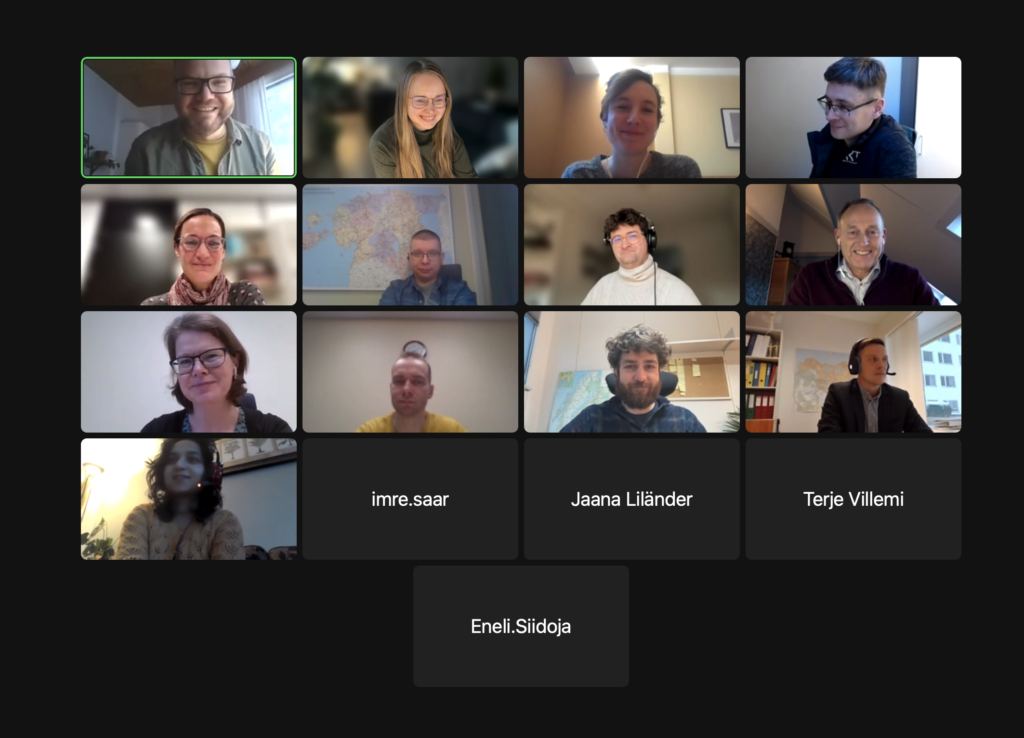 The Flemish Belbus system – will it survive change?
The Belbus system, presented by Marjolein Hantson (VUB). Belbus was initiated in response to a decree that defined basic mobility and mobility as a right. The service is operated by the public transport operator 'De Lijn', as part of the local PT network and serves low-density areas without regular bus lines. It functions as a phone-based on-demand 'bus stop-to-bus stop' system. Rides are ordered 24 hours in advance. It can be used for local trips or as a feeder to the regular PT network. 
A study from 2014 shows that the system has a diverse range of users and use cases. The survey shows ¾ of users are female, 66% are older than 45, 34% are older than 65. Nevertheless, 22% are younger than 25 and 19% used it for work. Thus, the system cannot wholly be characterised as a "social" service. The bus is truly necessary for many people to get access to work, school and basic amenities.
In the coming years, changes will be introduced to the system, following a new mobility policy. The on-demand PT will be integrated as part of a larger system of customised local transport, including shared mobility (bikes and cars and other types of flexible PT, such as semi-flex lines where passengers can request a ride to a hub, such as a train station. The idea is that off-peak service will be flexible but peak time is organised via fixed lines to mobility hubs. 
With these changes, the system should be more efficient, client friendly and app-based. However, some bus stops will no longer be serviced, raising questions of social justice: are the needs of current users being considered in terms of digital and physical access? Will current users still be able to reach their destinations after the changes? These questions will be further explored within the CARIN-PT project.
Flexible public transport system in Groningen and Drenthe – integration at its finest
The Dutch system in Groningen Drenthe, presented by Jan Bos from Publiek Vervoer.  The Groningen-Drenthe system is an example of an integrated system wherein on-demand public transport service is essentially tied to other public transport services. The concept here is that everyone should live within 15 km from a well-connected hub with most people living within 5 km. Each hub should offer a frequent public transport service and, in many cases, also offer additional amenities such as shops, bikeshares etc. The on-demand system is organised so that it primarily brings people to these hubs. 
While this system is already a great example of different governmental levels working together to establish an efficient transport system, there is growing interest in further integration, which potentially could reduce costs for different authorities involved. Publiek Vervoer addresses this by offering a platform designed to work across different authorities, including both the smaller municipalities and the larger cities within the region. 
A first step toward this goal is to combine existing systems so that they may share the same vehicles. To this end, a  new service, HUB Taxi, blends two services. The first is Wmo Taxi, a service introduced to meet the social support needs of illness, disability or old age, which costs riders about the same as PT. The second is the already existing pupil transport. With HUB Taxi, these two services would not work in parallel; instead users would share the same system and indeed the same vehicles. Of course, this is only possible to a certain extent. There is still a need for a specialised system for those who need to be accompanied by a specialist.
On-demand buses in the Spanish Castilla y Leon – locally-embedded public transport
The Castilla y Leon system, presented by Wojciech Keblowski (from VUB/ULB). The on-demand buses in the Spanish Castilla y Leon is arguably the largest on-demand public transport system in Spain. The system operates in depopulating and ageing regions to provide access to healthcare, local markets and cultural institutions. The idea is that residents in these emptying regions should not pay a penalty for living in such regions. Thus, the system is fare-free for inter-rural transport in small regions, but not for buses connecting to larger cities. 
In this case, the on-demand buses have timetables, yet travellers need to confirm the pick up at one of the offered times by calling a day in advance. These buses allow locals to go to larger villages to run their errands and then return. 
The on-demand system is embedded in local relations; drivers often run small companies and know passengers. There are many such private operators and despite the system being free, the operators can  receive money faster by offering passengers a ticket. Thus, in actual practice, people often pay for the service. That is, passengers can simply pay to hop on even if they have not scheduled a ride. Sometimes, the bus might not go to the place it was ordered to as drivers are used to serving their regular riders and routes. This is especially the case with tourists ordering unusual pickups. Thus, there is a possibility that those out of the daily routes might be missed.
On-demand transport developments in Estonia – a challenge on so many levels
The Estonian case, presented by the Tallinn University team, with comments by Juri Petruhhin from Estonian Transport Administration. This presentation covered activities in various areas in Estonia which are largely still in pilot stages. 
One Estonian case was tested as a pilot for about one year on the island region of Saaremaa and provided service with two cars in a smaller region of the island. This service functioned via online booking 24 hours in advance, with some additional management by an operator, and was important for access in low-populated areas around the island's central region. Nevertheless, questions emerged about how to expand the system to the whole of Saaremaa. 
Currently there are about 122 public bus lines on the island. The current plan reduces the number of bus lines to six, each providing high frequency service with a possibility to change in Kuressaare, the largest town. This system is accompanied by a more or less spontaneous booking system (2 hours before), providing connections to local transport hubs, which should serve surrounding regions within a roughly 20 – 30 min distance. The problem remains that one cannot easily jump between lines laterally. 
In the Tallinn city region, a new on-demand transport system is in the pipeline following a similar principle of providing connections to hubs. Nevertheless, the development is currently waiting for further cooperation between municipalities and other authorities.  
The four key challenges for on-demand transport systems
At the end of the workshop a concluding discussion highlighted four key challenges for on-demand systems:
How to integrate an on-demand system with the regular public transport system? How to get different actors to collaborate? This is necessary for designing an on-demand system that meets the needs of the citizens yet is organised as efficiently as possible. The Dutch case, for instance, highlighted an example of an institutional platform operating in a region with about 1 million inhabitants.  
What purpose does an on-demand mobility system serve? Is it for taking people out of cars or providing access to those with limited mobility options? If a system is organised for one of these purposes, it may not work for the other. There was a sense in the meeting that an on-demand system should primarily serve those who would otherwise remain immobile, so it has an important social justice function. But would that be a system that attracts wider user groups from different social stratas? 
How to ensure the continuity of a system? The reported actual prices for the on-demand systems were around 15 EUR per passenger—an unrealistic amount to be covered by the passenger. Considering the extent of necessary governmental involvement, a free system may actually be realistic. Some subsidy for the system remains anyhow necessary. This funding issue is likely one of the reasons there have been many on-demand transport pilots in various countries yet in many cases they are discontinued for political reasons (price and the political decisions surrounding that price). While the Saaremaa case in Estonia is one such example, there are also plans to open it again from the summer of 2023 onwards.
Finally, on-demand systems are likely to become more embedded in local life than other forms of public transport. The systems engender close contacts with users and riders and with strong social need for such services.  There are also examples of communally organised public transport services where residents help each other out. Nevertheless, a centrally-organised system can provide a potentially more stable service. something that is beneficial for both local residents and also others coming to the region. 
The CARIN-PT on-demand transport seminar offered ample food for thought for all the participants and fostered a lively and important exchange of ideas across regions. Our Belgium team will continue with their in-depth research on the Belgian system, while our researchers at Tallinn University will consider the potential for on-demand systems as one of the solutions for first and last mile transport. 
Do you have questions about any of the case studies? Tips on how to improve these systems or our research into them? Don't hesitate to get in touch. We'll always open to speaking with potential collaborators.
Written up by Tauri Tuvikene and Õnne Kask